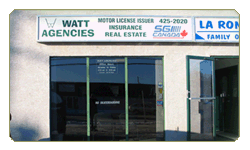 Watt Agencies has been locally owned and operated in the north since 1985. We understand the unique challenges and circumstances faced by northerners on a regular basis and are ready to recommend coverage appropriate for our unique way of life. We offer services for auto and license issuing as well as extended insurance coverages; everything from your home and auto, commercial business, summertime toys, to your cabin on an island or in the woods, our brokers will work with you to get protection on what matters most.
CLICK HERE TO RENEW YOUR PLATE
CLICK HERE TO RENEW YOUR PLATE
Contact Us!
712 La Ronge Avenue, La Ronge SK
PO Box 840, La Ronge SK, S0J 1L0
Phone – (306) 425 2020
Fax – (306) 425 3118
Email – wattagencies@sasktel.net